A well-kept terrace, a beautiful garden and an innovative driveway are all an advertisement for every home. The structure and nature of such demanding spaces requires the use of materials with suitable properties, impeccable aesthetics and high technical parameters.  So, for those who dream of making those areas around any building into a coherent and long-lasting design, we present the new 0,79″ thick tile collections which will surely meet all your highest expectations. The 0,79″ collections are characterized by their resistance to heavy loads, low water absorption and their high anti-slip ranking. Thanks to these properties, they are a perfect choice for terraces, decorative garden paths, gazebos or garage entrances. They can be mounted directly on the ground, whether it be grass, gravel or sand or they can be mounted using special support pads, which allow the designer to create a vast number of arrangement possibilities.
The wide and varied offer portfolio for the 0,79″ tiles is sure to meet the Client's highest expectations.  Thanks to their high technical parameters, the collections are also ideal for public use spaces. With the help of tiles from our 2.0 line, creating a coherent and harmonious design becomes a true delight.
 Get to know the collections: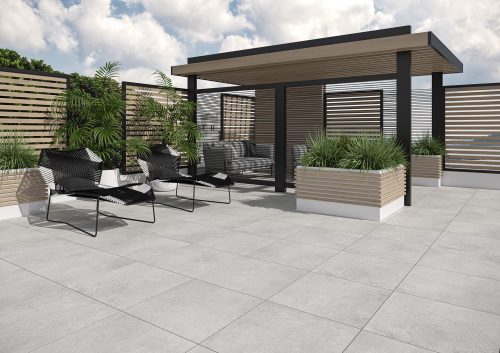 Patterns and structures taken right out of nature will make the Cliff collection tiles an ideal backdrop for a lush, green garden.  These stone-inspired tiles in four colors are a universal way to emphasize the building's architecture and give terraces and garden paths some unique character.
These meticulously imitating natural stone tiles from the Arragos collection are the most durable and practical solution for your garden needs not only in the summer, but winter as well.  The stunning patterns of these tiles accentuate the natural world around them and add harmony to the modern design in the space surrounding the building.
Strategically laid out paths throughout the property can completely transform how it looks, as they add character and highlight advantages.  The smooth surface and the natural color palette of the Stratic collection will emphasize its minimalistic, yet effective design inspired by the raw nature of concrete.
The Ragaya collection, which combines the warmth and elegance of wood with the durability and functionality of stoneware, will be a fantastic alternative to gres tiles in shades of gray.  Wooden motifs are timeless and they suit many styles – thanks to which we can be sure that the arrangement in the garden and terrace space will present itself perfectly for years.
Gres imitating stone from the Verness collection is not only pleasing to the eye, but also functional as it does not require impregnation, is easy to install and it's in the top ranks when it comes to withstanding various weather conditions.  Three natural tile shades will skillfully blend in with the landscape, while remaining the neutral base for any arrangement.
Belgica tiles perfectly imitate concrete surfaces, becoming a universal answer to creating modern designs.  They provide us with nearly infinite design possibilities.
Modern trends also favor the larger format terrace tiles, which reference geometric designs inspired by minimalism.  Collections Crafter, Testo and Tauro perfectly fit into the criteria of modern trends, thanks to which you can create chic symmetric or asymmetric borders or edges separated by vegetation, or a homogenous terrace floor guaranteeing utmost comfort during installation and usage.
Tiles from the Crafter collection were designed for those who value impeccable aesthetics while at the same time demanding the highest technical parameters. The natural color palette ranging from dark nero to the lighter silver and gris shades, will provide a multitude of arrangement possibilities.
Concrete is an inseparable element of the industrial décor style as it perfectly highlights the charm of minimalistic arrangements, where among the simplicity of it all, it actually becomes a very characteristic adornment.  The universal character of the tiles from the Testo collection allows you to combine it with various materials (but it pairs perfectly with gravel and vegetation) to create amazing designs.
Personal tastes generally dictate the look of a fashionable garden.  However, functionality and current trends should also be key factors.  Creating such a space can seem challenging, but not when using the wood-like tiles from the Tauro collection which help you achieve whatever the desired effect may be.  They work perfectly when used on paths and in recreational spaces of your garden.
Changing trends made gardens, outdoor paths and terraces an integral part of any home design project, and their appearance is of great importance when looking at these projects as a whole.  The newest 0,79″ tile collections from Cerrad are a fantastic solution, as they are equally practical as they are fashionable.