Planning to change your bathroom décor? Although the fixtures and equipment installed in your bathroom are important, it is the walls and the floor that determine its style and overall look. Modern bathroom tiles are an obvious choice, but their sizes and patterns are a completely different story. Check out the best solutions worthy of your attention today.
Bathroom Tiles and Interior Design Trends
Tiles have been a crucial component of bathroom design for decades. It's no wonder really. They offer the only type of surface that is able to keep up with the demanding bathroom environment, which is constantly exposed to moisture. They are also easy to keep clean. However, in addition to practicality, their design aspect also plays an important role. The right pattern and size of floor and wall tiles enable you to create the desired style and look in your bathroom. What is particularly noteworthy today? These styles are popular today:
Loft Style – industrial and lacking adornments; it gives your bathroom a very modern flair and designer quality; to achieve this style, use concrete effect or red brick tiles and combine this design framework with raw metal fixtures and plants added for contrast;
Scandinavian Style – both modern and drawing from nature and ethnic influences; you can achieve this style in your bathroom by choosing wood effect tiles that make it look brighter and warmer.
Retro Style – a free-standing art deco designer bathtub, a decadent art nouveau mirror and white brick imitation tiles – an excellent combination!
Bathroom Tile Formats
As you can see, nowadays you can choose from countless bathroom tile designs. However, design is not only about texture and colour, but also the format. In this case, if you want to achieve an interesting effect, the sky is the limit.
Large-format tiles are very popular – with sizes ranging from 60 x 60 cm, through to 20 x 120 cm, 60 x 120 cm, up to 80 x 160 cm or even 120 x 120 cm. They look great on both floors and walls – you can use them to create an almost monolithic surface to amplify the modern and minimalist look of your bathroom. To make a uniform pattern truly stand out, you can cover one of the walls or a part of it with tiles from the same collection, but in a different shade.
And what about smaller sizes? They still have their fans. The following sizes work well:
30 x 60 cm – a great choice for walls,
5 x 60 cm – they imitate floor boards perfectly, which makes it is the most popular format for wood effect patterns.
You can also create interesting décor by introducing mosaic patterns to give your bathroom an Oriental and ethnic vibe.
Cerrad Inspirations
Looking for interesting bathroom tiles that redefine the look of your bathroom? Take a look at several Cerrad tile collections available in different formats to suit your design.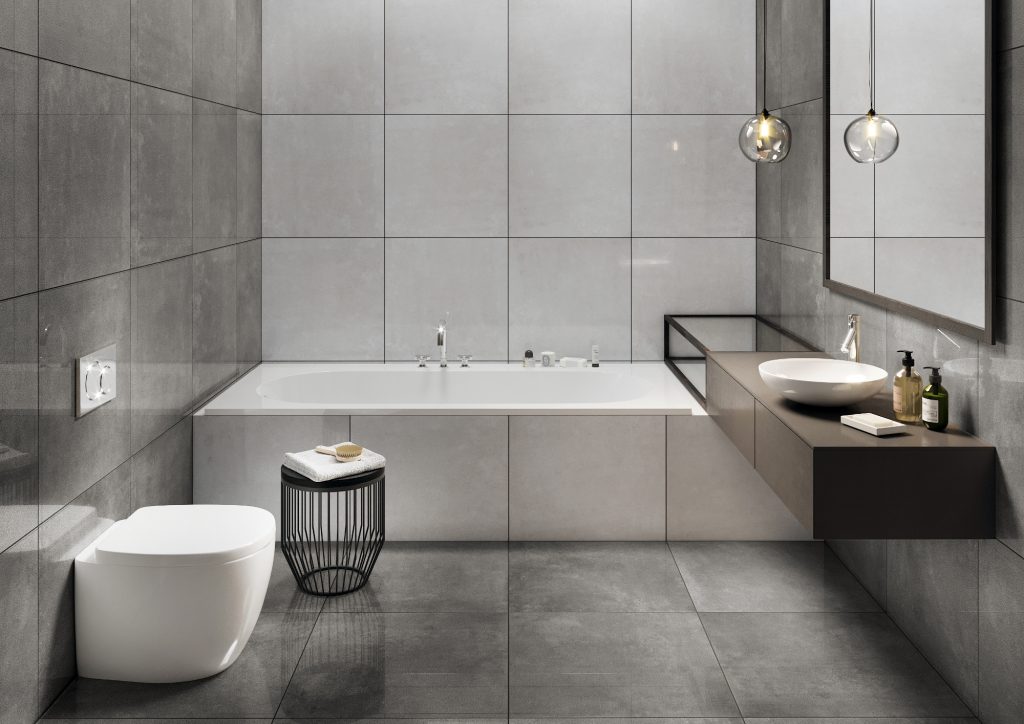 A collection inspired by concrete surfaces, in a classic graphite shade. Excellent for loft-style, industrial and modern designs. For example, choose the classic 60 x 60 cm format and combine it with brick imitation tiles from the Foggia collection – in white, black or graphite – for a spectacular effect. Mosaic adornments are also available in the 30 x 30 cm size.
Wood effect tiles in shades of grey. Choose a 20 x 120 cm size for flooring. For a warmer colour effect, choose the Setim Nugat collection.
Also check out other collections such as: Concrete Beige or Tacoma White and the other collections available in the Cerrad portfolio. They can transform your bathroom, giving it a completely new look.