The latest gres tile collections are now on sale. The collections were created through a collaboration venture between the Cerrad and La Mania Home brands, along with the project's ambassador – Janna Przetaczkiewicz, creative director and founder of La Mania fashion house.
Cerrad x La Mania Home is an assortment of 4 gres tile collections: Brazilian Quartzite, Ceppo Nuovo, Modern Concrete, Marmo Thassos/Morocco – inspired by the beauty of the surrounding world, in several formats and color variations, and in different surface finishes. Among them, 0,24″ thick slabs measuring 48″ × 110″, with original designs and a unique surface finish: lappato silky cristal.
We invite you to join us on a journey, where we take our love and passion for art, travel, fashion and beauty, and we transfer it into the world of interior design.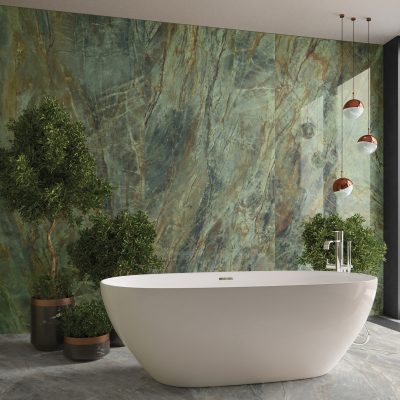 Brasilian Quarzite – in the rhythm of exceptional design
Do you hear that energetic music? Do you feel how the air vibrates, pulsates and resonates? Warm sand under your feet, a blue sheet of water on the horizon, and a singular thought in your mind: how to hold on to this aura for just a little bit longer, hold it in the palm of your hand and take it with you wherever you go, so this exotic feeling can delight you with its rhythm and contrast on a daily basis. You're already aware that parting with the azure ocean, golden beach and the deep, dark, rocky outcrops will be of great difficulty. But do you really have to part with it all? Just as Brazil can be explored for many years to come, so can this collection, inspired by the Brazilian Quartzite, let you discover its many faces. Five color variants and an array of formats will one moment surprise you with energy straight out of a colorful carnival in Rio, and the next it will cool you off with its splendor as if you were back at the beach relaxing in the shade of palm trees. Vivacious, but full of class. Striking, but full of harmony. De nada.
Modern Concrete – beauty full of contrasts
It allures with the bustle of eclectic streets, flirts, permeating the sounds of nightlife through the air, distanced by the cold, concrete grayness one minute, only to a moment later, amaze with the blinding glow of neon lights or to calm the senses with the greenery emerging from between the buildings. New York – the Big Apple – a city with tastes that differ according to palate. Just as in this cultural capital of the world, where a diversity of styles and characters convene, so is the Modern Concrete collection a game of associations and assorted aesthetics. Nothing here is unequivocal and transparent. The timeless gray stands against the beige and loses itself in the tranquil, fresh white. Structures, everchanging like New York's essence, give practically boundless design alternatives. With class, but modern. Minimalistic, but impressive. There you go!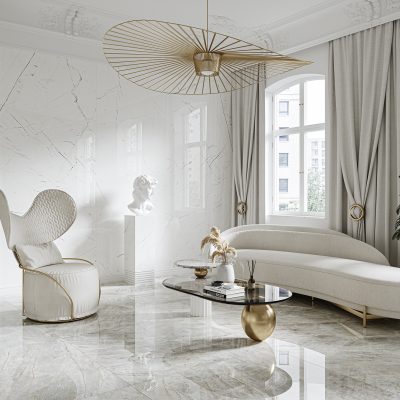 Ceppo Nuovo – native to Italy's capital of fashion
Sun in zenith, the aroma of coffee wafting through the air, atmosphere teeming with art, fashion and design. Full of class and elegance, but not without energy and temperament. Echoes of history are felt everywhere, a history that becomes the captivating backdrop for modernity. Full of contrasts, therefore coherent, chill at times, but bathed in the warm southern rays – this Italian capital of beauty – Milan manages to amaze and awe at every step. It was this beauty that inspired the creation of the Ceppo Nuovo – a collection that meticulously reflects the beauty of Italian bedrock. Four stunning colors, an assortment of formats, one excellence – today, you too can feel like an artist. Design, create, strut on it as if you were on a catwalk and invite into your home a touch of the Milan style. Non c'e di che!
Marmo – Perfection captured in marble
Thassos – the pearl in Greece's crown became the inspiration for the Thassos Marmo collection – white surfaced tiles with dynamically scattered veins in shades of gray. The texture allows for a stunning play of lights, which is sure to splendidly illuminate any design. A palatial interior of a Mediterranean residence in the heart of a native climate? Elegance, that doesn't overwhelm but instead makes the interior feel airy and ethereal? Singular color, myriad of formats, indisputable wonderment and awe. Parakalo!!
Marocco – Shrouded in mystery. Through the sandy Sahara deserts, and cedar forests of the Middle Atlas mountains, all the way to the coastal lagoons. The magical land of the setting sun invites you on a journey full of the Orient, with a refreshing glass of "the a la menthe" in your hand. Just like the Sahara, the Marmo Marocco collection is shrouded in mystery by day, and exposed by the moonlight at night. You can lose yourself in it, get immersed in its beauty, discover its many faces for years to come.