A dark bathroom with black tiles is a choice for the brave, but also for those who value elegance and modernity. More and more people are going in this original design direction, becoming convinced of its extraordinary charm. Black tiles, although they may seem like a challenge, provide unlimited possibilities when designing a space, adding depth and character to it. Large-format slabs imitating black marble, classic "subway" tiles or dynamic 3D patterns – these are just a few choices that can turn your bathroom into a real work of art. However, for the end effect to be spectacular, it's worth remembering several important aspects. Dark tiles require appropriate lighting that will prevent the space from becoming too overwhelming. Additionally, skillfully placing a mirror can optically enlarge the room and add an interesting effect. So, how do we go about creating an impressive dark bathroom with black tiles? Let's start with the basis – a black floor.
Black floor – the foundation of a dark bathroom
A black floor is the foundation of a dark bathroom, which will set the tone for the entire room. Black tiles add elegance and depth to the interior, while creating an attractive background for the rest of the equipment and furnishings. However, it's important to choose appropriate furniture and accessories. Light colors are best, as they will provide contrast to the dark floor, adding lightness to the bathroom. White or wooden elements are especially recommended, because they will bring warmth and coziness to the interior. It's also worth remembering gold or silver accessories that will add shine and luxury to the bathroom. However, remember that the key to success is moderation – too many dark elements can quickly overwhelm the space. Therefore, when choosing a black floor, it's worth using light tiles on the walls for example. This will maintain balance and make the bathroom look fresh and modern. What products from our collections can we recommend here? Neotec Black or Cambia Black Lappato will be a great choice.
Dark wall tiles – a mysterious accent in the bathroom
Dark wall tiles are a way to add depth and character to your bathroom. Their use allows you to create a mysterious and at the same time elegant accent. Depending on the chosen style and pattern, we can achieve different effects. Tiles in graphite shades with a delicate sheen will add shine to the interior, emphasizing its modern character. In turn, matte, deep black tiles will create an atmosphere of luxury and prestige. It's also worth paying attention to products with interesting patterns – they can become unique decorative elements that catch the eye and add originality to the space. However, remember that dark wall tiles work best on large surfaces – in small bathrooms they can visually reduce the size of the space. Therefore, when deciding on black tiles, it maybe worth just using them on one of the walls, creating an successful contrast with other, brighter elements in the room.
Black ceramic tiles – modernity and elegance
Black ceramic tiles are a symbol of modernity and elegance. Their universality makes them a perfect fit for various interior styles – from minimalistic, to industrial, to glamorous. Moreover, dark tiles are extremely practical. The black color masks minor specs of dirt, which is especially important in the bathroom where splashes of water are easy to spot. Ceramic tiles can be easily wiped with a damp cloth to quickly regain their original shine.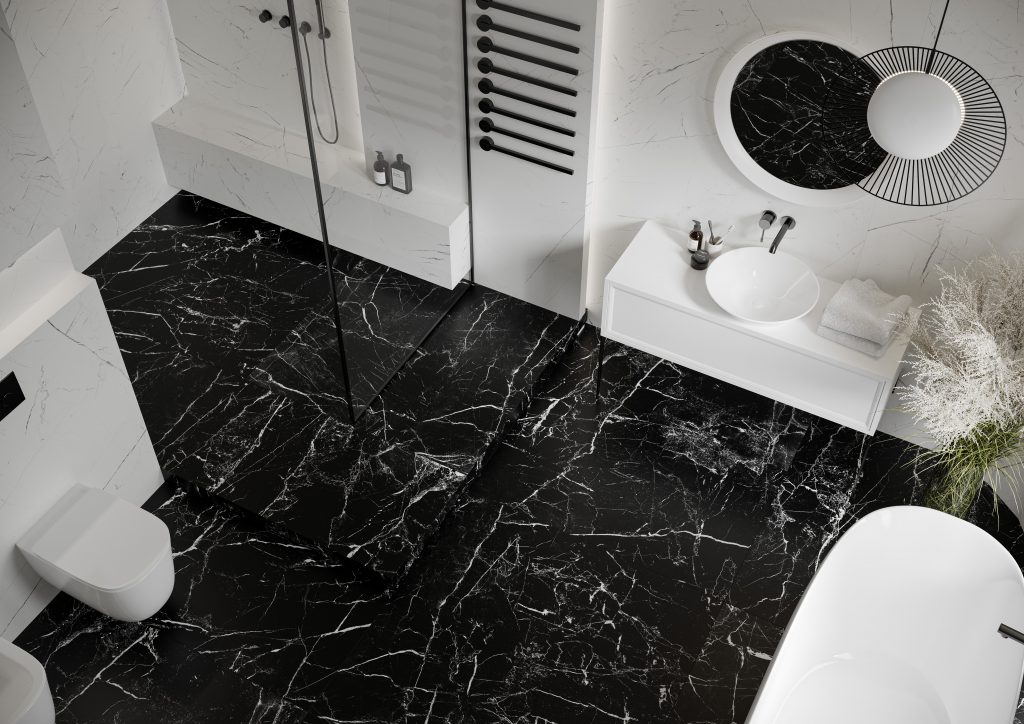 A dark bathroom with black tiles is a choice for adventurous people who value original solutions. A well thought-out use of black can bring surprising results. Black tiles go perfectly with other colors and textures, adding elegance and character to the interior. However, it's worth remembering the most important rule – they look best on large surfaces, and in small bathrooms they can visually reduce the size of the space. We encourage you to experiment and discover your own style. Remember that the bathroom is not only a place for daily rituals, but also a space that can reflect your personality.