Have you ever wondered how much influence tiles have on the atmosphere in the kitchen? It's thanks to their colors and patterns that we can give the darkest corners of the space a completely new character and even liven it up. Especially when we're talking about ceramic tiles, which can transform any interior with their wide assortment of colors.
Colors of ceramic tiles are crucial to the overall appearance of any room. Did you know that properly chosen colors can optically enlarge the space and also influence our mood? A dark kitchen doesn't have to be sad and gloomy. On the contrary, thanks to properly selected tiles it can become a place that's filled life and energy. And we've prepared some of our most interesting offers to help you make the best choice for your design needs.
Kitchen tiles – an assortment of colors
Kitchen tiles are not only a practical solution, but also a key decorative element that can significantly influence the atmosphere of the room. When choosing ceramic tiles, we have a wide assortment of colors at our disposal that can liven up even the least-lit of kitchens. From fresh, light shades – through intense, saturated colors – to elegant, deep tones – each one has its own unique power.
The selected colors of tiles are not only a matter of aesthetics, but also functionality. Light colors such as white, beige or other pastel tones will optically enlarge the space and add lightness to it. In turn, dark tones, such as navy blue, gray or black, will give the kitchen depth, elegance and character, although they may visually make it feel a bit smaller. It all depends on what effect we want to achieve and what our individual preferences are. Equally important is how the individual colors are composed together, what patterns they create and what feelings they bring out in us as a whole.
For example, bright and vibrant colors such as yellow, orange or red can make a dark kitchen feel warm and cozy. On the other hand, pastel shades such as mint, pink or lavender can add lightness and freshness to the space. Remember that the key here is harmony and consistency – it's what will create a truly stylish and functional kitchen.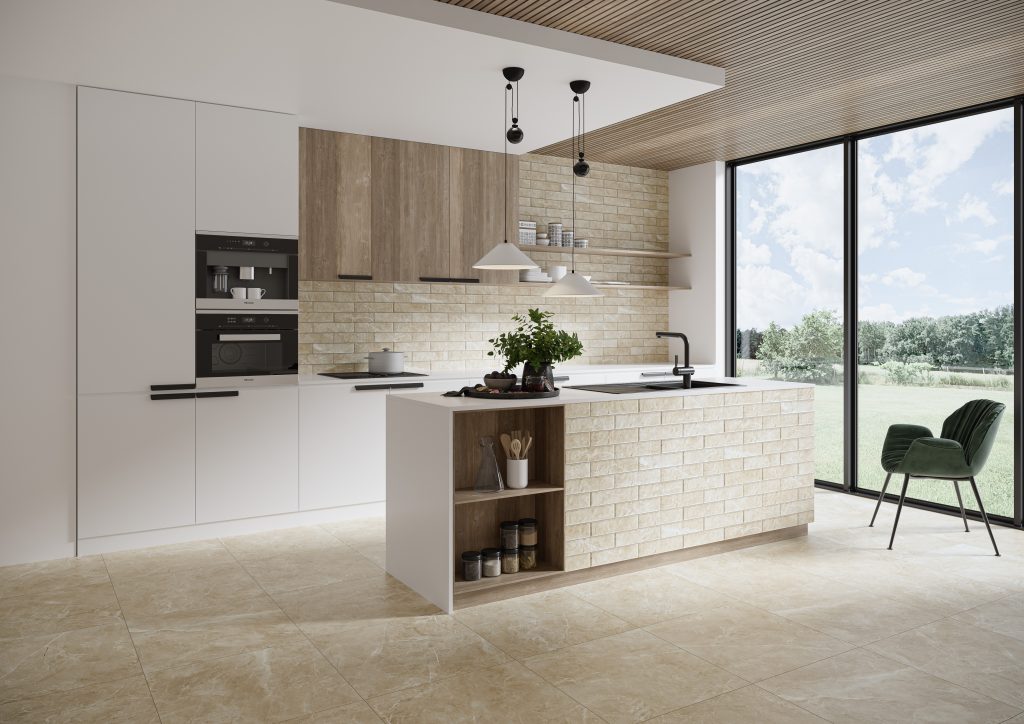 Shapes and patterns of kitchen tiles
The shape and pattern varieties of ceramic tiles that area available on the market today are truly impressive. From classic squares, through rectangles, hexagons, to the more extravagant forms, like tiles in the shape of fish scales. No matter what you go with, each of these can give your kitchen a unique character and atmosphere. Geometric motifs, floral patterns or abstract compositions – it all depends what your taste is and what décor style you're going with in your kitchen. For example, tiles with light colors and interesting patterns can optically enlarge and brighten the room. In turn, irregularly shaped tiles can add movement to it, breaking up the monotonous, homogeneous surface.
When it comes to playing with shapes, we encourage you to check out our Cambia Lappato Heksagon collection, which is available in Black, Graphite, Gris and White. These hexagonal tiles are available in four shades, which can easily be mixed and matched to create intriguing compositions. Colors from black, gray to white work well together and look great next to each other.
They're also universal enough to fit into an elegant, modern kitchen. Marble countertops, wooden furniture, as well as shiny, chrome furnishings will look great against their backdrop. Creating your own design will also allow you to unleash your hidden creativity. We sincerely encourage you to have fun with your arrangement.
Ceramic tiles – how to care for them?
Proper care of ceramic tiles, especially those in the kitchen, is crucial to maintaining their aesthetics and durability. Kitchen products are exposed to a plethora of dirty things, such as grease, splashes and food fragments, which may affect their appearance. That's why regular and proper cleaning is so important. The basic rule of care for ceramic tiles is regular cleaning, that is the removal of dirt-stuff via the use of a soft cloth or sponge with appropriate cleaning agents. It's important to remember that some harsher detergents can damage the surface of tiles, so always be sure to read the product labels carefully. Care should also include regular polishing of tiles that have a glossy finish.
Experimenting with colors and patterns when it comes to ceramic tiles is the key to creating a unique and cozy kitchen. Don't be afraid to combine different shades and patterns to create a space that best reflects your style and personality. Remember that the kitchen is the heart of the home, so it deserves to look as good as you want it to.