Do you need to select a type of flooring for your living room? Are you considering whether to make your floor practical or beautiful? Fortunately, there are solutions that allow you to combine the two. Discover the latest trends in interior design and see how you can create a functional, yet elegant floor that will delight the eye, while at the same time serving its purpose for many years.
Living room porcelain tiles – modern trends
industrial style – raw minimalism
Polish people have fallen in love with minimalism. Investors and designers prefer large, open spaces that are stylistically uniform. Modern metropolitan designs often refer to the industrial style, that is why we see tiles that look like concrete on the floors and walls.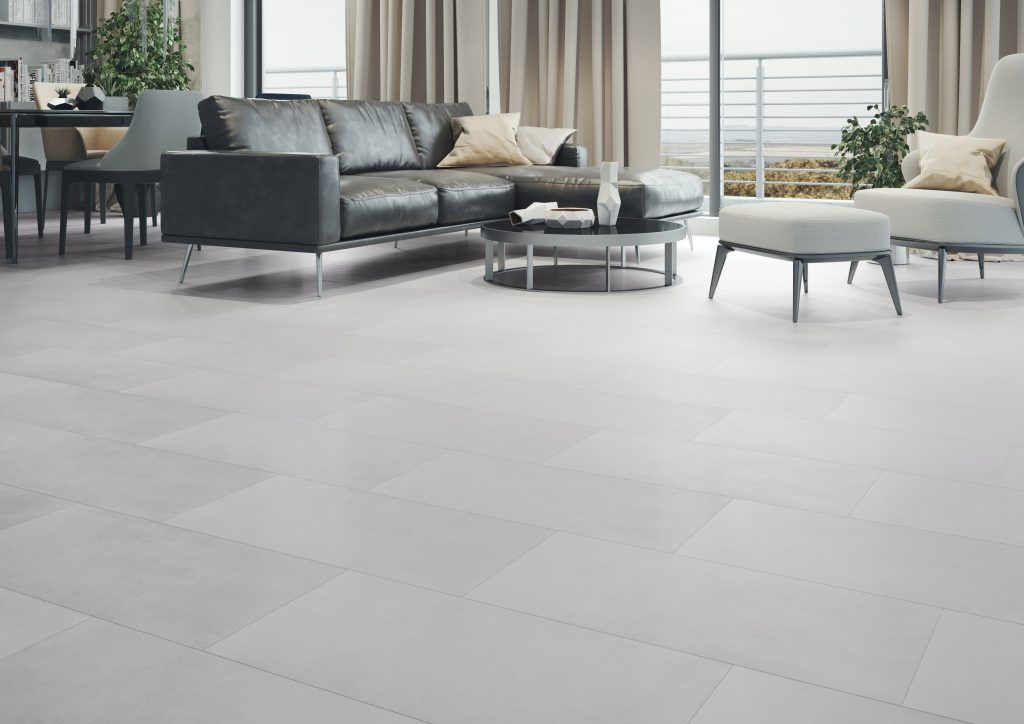 White and black, along with all shades of grey, offer an elegant and stylish ambiance. Porcelain tiles in various shades of grey will look especially well on a living room floor, as they will easily match the other home furnishings and decor. The Tassero and Batista are two of our collections that imitate raw concrete, offering fashionable urban elegance with an industrial touch.
Scandinavian style – close to nature
Another trend in interior design that is a different type of minimalism – the Scandinavian type. In interior designs inspired by nature and simple forms, wood is the best choice. A wooden floor is a dream that many people have, so eventually they may be faced with the decision of choosing an option best suited for them. However, one should remember that a wooden floor requires regular maintenance and care, not only during installation, but also on a regular basis during its lifetime. Also, if one enjoys underfloor heating, a wooden floor  is problematic when it comes to heat transfer. Tiles that look like wood are a practical alternative. Due to their many advantages, porcelain stoneware tiles are used more often than traditional hardwood flooring. Why is that? Tiles are easier to clean; they are resistant to scratching and are significantly more durable. They do not require sealing or sanding in order to maintain their properties for years.
Materials having the wood effect are a great choice for every living room – light and soft colours will beautifully complement small rooms with restricted light, whereas darker and more vivid colours will give character to large living rooms with multiple glass panes. We can see examples of these solutions within the Mattina and Catalea collections.
How do I choose a living room floor?
There are many materials on the market that can be utilized for a floor. Among the most popular are wood, floor panels, concrete and porcelain stoneware tiles – the latter being the most advantageous. You should choose a floor that is wear resistant, and one that will combine well with the remainder of your décor or your future interior design vision. When thinking about what the best solution for your living room is, one should pay attention to the following:
wear resistance rating,
slip resistance properties,
easy cleaning,
suitability of a given material for underfloor heating,
availability of a wide range of desired colours and finishes in popular floor materials (concrete, wood),
availability of multiple formats.